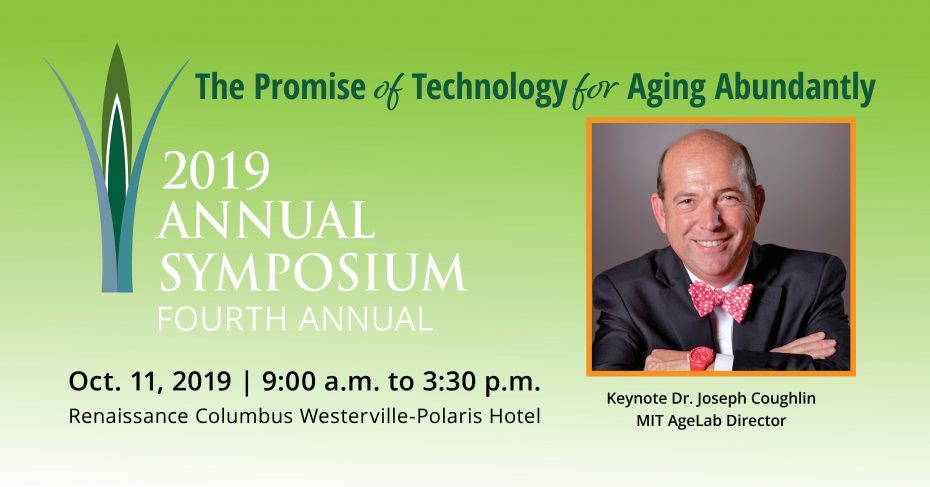 Aging's Best Kept Secret: The RFPCAA Symposium
What do a nationally renowned speaker on technology and aging, a team of researchers from The Ohio State University, an empathetic robot expert and a list of innovative apps have in common? No, I'm not looking for a punchline here! Exciting news: They will all be featured at the Ruth Frost Parker Center for Abundant Aging's Fourth Annual Symposium: The Promise of Technology for Aging Abundantly.
Dr. Joseph Coughlin
Our keynote speaker this year is Dr. Joseph Coughlin, founder and director of the Massachusetts Institute of Technology AgeLab. He was named one of Fast Company magazine's 100 Most Creative People in Business." And the Wall Street Journal called him one of "12 pioneers inventing the future of retirement and how we will all live, work and play tomorrow." His long list of accomplishments includes serving on President George W. Bush's White House Advisory Committee on Aging and the Governor's Council on Aging in Massachusetts. He's also authored several books, the most recent named one of CEO READ's Business Bestsellers — The Longevity Economy: Inside the World's Fastest Growing, Most Misunderstood Market, which tackles how society views older adults and provides insight on how to serve this growing population.
You can catch his dynamic speaking skills in one of his Ted Talks here, which should gear (an innovative pun – gear!) you up for his keynote address: "Inventing Life Tomorrow in Today's Longevity Economy."
Dr. Majd Alwan and Today's Technology
Featured speaker, Dr. Majd Alwan, joins us from LeadingAge, where he's the senior VP of technology and the executive director of the LeadingAge Center for Aging Services Technologies (CAST). He's a noted researcher and authority on aging-services technology, creating and leading a group of technology companies, providers and research institutions focused on technology solutions for older adults.
At the symposium, we've slated Dr. Alwan for discussion around "Balancing the Future: Technology. Ethics. Security. Accessibility." UCH's CEO and President Rev. Kenneth V. Daniel will moderate.
Dr. Alwan will also join us in conversation, following "Technology Today: Ignite Presentations." In this session, we'll explore current technologies designed to enhance the lives of older adults. Featured is the home-sharing app Nesterly (introduced by Age Friendly Columbus' Frances Krumholz). And we'll also explore telehealth (presented by Optimized Care Network's Linda Mauger and Kathryn Brod) and Carewire (discussed by Michael Sentz).
Research and Technology Demonstrations
One of the afternoon sessions highlights some of the latest (and most intriguing) technology today, demonstrated by some of our nation's top researchers. First up is Nucleus, a family communications device that connects you with the ones you love, demonstrated by Nucleus' VP of Business Development PJ Dowling. Next, Lorraine Mion, from OSU's College of Nursing, shares "Socially Acceptable Robots" with us. Rounding out the session is "Virtual Reality As a Teaching Tool for Empathy" with researchers from The Ohio State University ACCAD team.
Register Now!
As if that lineup isn't enough, we're also offering up to 5.0 CEUs. Oh, and lunch – did I mention lunch? Registration is quick and easy, and guess what? You're already on the site. Click on the burgundy 2019 Annual Symposium button in the upper right-hand corner of abundantaging.org.
We're super excited about this opportunity, and we hope to see you there!