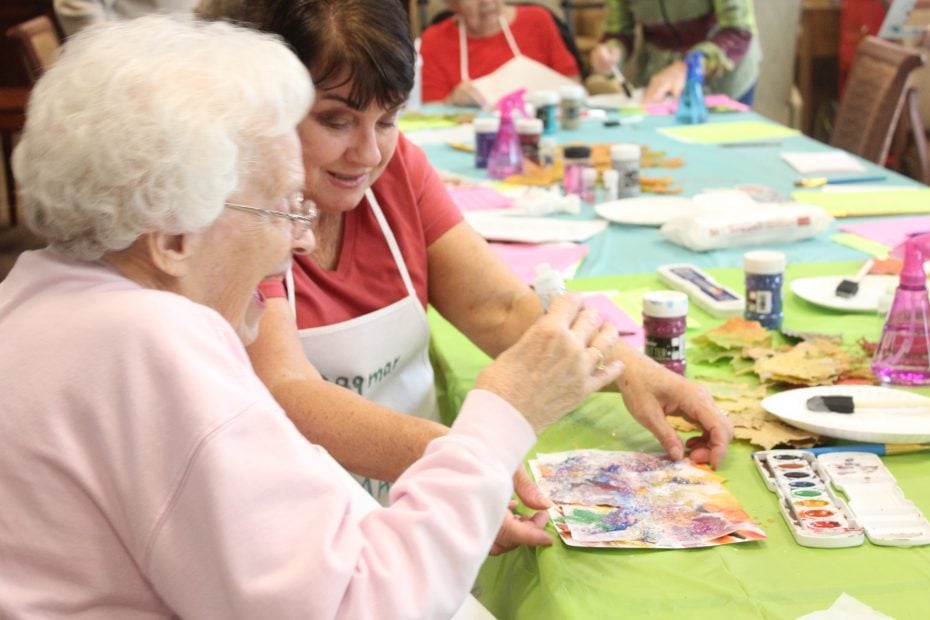 This is part two of a four-part series of stories of people who have shined their light as a beacon in service to others.
When we celebrate All Saints' Day, we remember those who died as witnesses to the Christian faith. A saint is a person acknowledged as holy or virtuous. The informal definition of "saint" is a person who, along with being virtuous, is incredibly kind or patient. Each of us can identify people in our lives who fit this description.
Two people in my life who have shined their light as a beacon in service to others are Becky Blocksom and Rev. Dr. Becky King of Fairhaven Community. Both cancer survivors and talented servant leaders, the Beckys share their love with all they meet. In doing so, they embody United Church Homes' core value of compassion by shining and reflecting God's love.
God's love is never more present than during Opening Minds through Art sessions with residents who live with Alzheimer's or dementia-related conditions. OMA provides these residents with the creative freedom to expand their choices and sense of control. The program uses art and self-expression, coupled with person-directed care principles, to build a bridge across age and cognitive barriers. Throughout each session, Becky Blocksom, a skilled vocalist, leads the group in favorite songs, such as "This Little Light of Mine" and "You Are My Sunshine."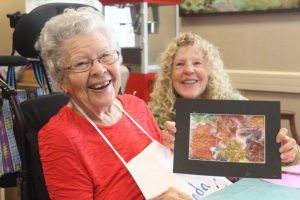 Find Yourself in Service to Others
Mahatma Gandhi once said:
"The best way to find yourself is to lose yourself in the service of others."
Spiritual practice brings us face to face with the profound mystery of our own identity. What is the force that gives us life? When the Buddha confronted the question of identity on the night of his enlightenment, he made a radical discovery – we do not exist as separate beings. The idea of an individual self is an illusion that causes suffering. All of us – all 7.7 billion of us – are connected to one another. If we pay attention, we come to experience an interconnectedness and a realization that we are all part of the divine.
Abundant Life Through Creative Self-Expression
A world without art is a world without imagination – the one thing that distinguishes us as human beings from other species, Katerina Gregos explains in a 2014 TEDx Talk titled "Why Art Is Important." There have been countless articles about the influence of art education for children and young adults. But what about older adults? How does art help them?
According to an article in Today's Geriatric Medicine, creative arts provide older adults with enhanced cognitive function. Art activates psychological and physiological healing and enhances quality of life. It is also known to lessen feelings of anxiety, depression and stress in people of all ages. In one study, older adults who participated in arts activities experienced lower levels of loneliness and depression. We know loneliness and social isolation kill. Research has linked social isolation and loneliness to higher risks for high blood pressure, heart disease, obesity, a weakened immune system, anxiety, depression, cognitive decline, Alzheimer's disease and even death, according to the National Institute on Aging.
Abundant Life, One Moment at a Time
Then, there are the anecdotes. Fairhaven resident Doris* almost always wears a smile. Due to her Alzheimer's diagnosis, Doris has short-term memory loss. She doesn't remember OMA sessions from one week to the next, but when she enters the class, she beams with excitement and greets volunteers and staff. Doris is paired one-on-one with a volunteer, whose role is to encourage and assist Doris, not do the art for her.
During this session, Doris and her fellow resident artists create autumn paintings with leaves gathered from the Fairhaven grounds. They begin by painting backgrounds in their favorite colors. When that step is complete, they use hodgepodge and tissue paper to give their art texture. Then they add as many leaves as they'd like on top, finally painting over them.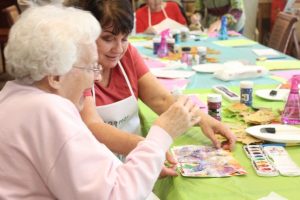 If you visit an OMA session, you'll want to observe the artists as they complete their pieces and see them for the first time with a frame. Their eyes sparkle. They grin and express shock. "I didn't know I could do that!" one artist exclaims. In this case, a picture is worth 1,000 words.
My Friends, My Colleagues, My Heroes
The Beckys of Fairhaven were my friends before they were my colleagues. Since observing their facilitation of OMA over the past two and a half years, they have become my heroes. No matter what's going on in their lives, Becky and Becky are kind and patient. They don't lose track of purpose in their lives – to find themselves by losing themselves in the service of others. They embody the love of Christ for everyone they meet, regardless of differences. They practice their faith, finding meaning in everyday interactions and tasks. Their presence in my life is a divine blessing. In my eyes, and the eyes of so many others, they are saints.
*Name has been changed to protect the resident's privacy.