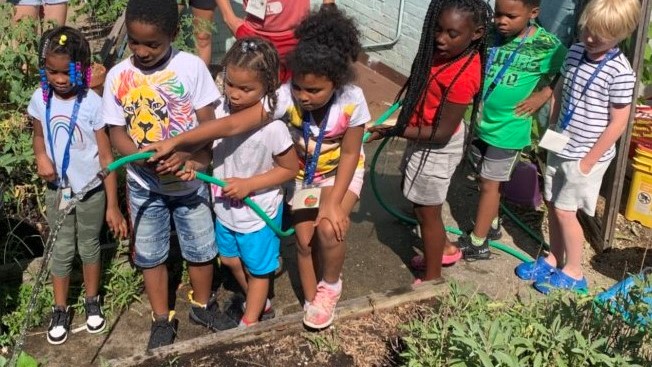 Imagine a sturdy old church building. A deteriorated neighborhood. Hemmed in by interstate and express highways. No grocery, drug or convenience stores nearby. No easily accessible transportation. Low- and no-income families renting decrepit apartments. Rampant addictions and homelessness.
Years ago the area sported massive slaughterhouses and meatpacking companies. Residents walked across the street to go to work. Busy freight trains with tracks covering a third of the community ran day and night.
Camp Washington was the hub of Cincinnati's thriving pork industry.
But some 80 years ago, the streets and pedestrian pathways were being cut off by widening business streets and highways around Camp Washington. Residents of Camp Washington were being trapped—by poverty or addiction, in a bad school district, in dead-end jobs and run-down housing. They were out of sight and forgotten.
From a Declining Worshiping Community to a Thriving Serving Community
There was also a venerable old church, known as Washington United Church of Christ. Slowly, the congregants recognized what a former pastor observed: "….the church wasn't connected with the neighborhood."
The church had been in Camp Washington since 1872. By the early 1970s a remnant of members were preparing to close up for good. Then, a pastor offered the suggestion that they needed a new vision, a new understanding of their calling.
The neighborhood became their mission!
Over the past fifty years, the work of the church has shifted from a declining worshiping community to a thriving serving community.
If you were to visit Washington UCC, you would see the proof.
The Proof in Action
There are people in the building every day of the week. In 2022, even in the midst of COVID issues, they provided 11,100 lunches for adults, as many as 60 a day Monday through Thursday.
Three days a week there is a Homework Club. Students come by after school, start with a meal, then settle in for tutoring.
Clothing, household goods, hygiene products, and yes, food, are available--free of charge--at the Camp Cupboard and Closet. Even in a "Covid year", food was distributed to 3,500 people!
In June and July, four days a week, some 30-40 children take part in the Summer Youth Program. In addition to lunch, the children are introduced to delights outside their scarred neighborhood. Trips to the zoo, swimming pools, farms, and museums offer glimpses of a broader, brighter world than the one in which they struggle to survive "back home."
Thanksgiving and Christmas are huge. Again, food! Two hundred food boxes packed and delivered with complete fixings for a traditional Thanksgiving dinner. At Christmas there are toys, clothing, underwear, socks, hats, gloves, backpacks. And more food. Last year 370 children from 95 families received gifts from Washington UCC.
Funds, People, and Courage
It would take a pretty healthy congregation to do all this. Think of all the cooking, delivering, shopping, clothes sorting, cleaning up, and the hours spent tutoring after school, and escorting and supervising kids at the putt-putt-golf course and swimming pools. And finding ways to support the under-paid adults--if they even have jobs--while advocating for fair rents and better landlord upkeep of the houses. It is an incredible challenge.
Consider what such a mission costs. To manage such extensive outreach requires funds, people, and courage!
Would it surprise you, then, that on Sunday morning there may be 10-12 folks at worship?
Would you be surprised to learn there are 24 official church members, only five of them still living in Camp Washington; the others living longer distances from Camp Washington?
The determination of those members, fired up by a handful of dedicated leaders, paint such an amazing story of community ministry that others volunteer to help!
A corps of 40 volunteer tutors for the Homework Club come the same day every week to work with the same students so the kids know, respect and bond with them. Some come from University of Cincinnati and Xavier University, others may be retired nurses, teachers, and folks not yet retired who spend afternoons helping kids succeed at school.
The Camp Cupboard and Closet is overseen by volunteers, a director and six regulars, who themselves are helped by visiting church groups who help sort and display donated goods.
The Camp Community Café which offers noonday lunches has a chef and eight or more regular volunteers. Others find interesting ways to assist, for example by saving whipped cream and cottage cheese containers to send food to neighborhood homes.
Holiday joy and gifts are possible as congregations "adopt" families and tend to their Christmas wishes and dreams. Volunteer groups from Carmel, Indiana, and Suffield, Ohio, and Ft. Thomas, Kentucky, and elsewhere, annually set up, shop, sort, fill and distribute family bags, decorate the hall, and create what is called Gifts to the Manger.
The vigorous summer youth program is led a small staff bolstered by "mission groups," some who are in Camp Washington for a week at a time to work with the children. Last summer, six groups from outside the Cincinnati area came to help. Over one hundred volunteers supported the summer program.
A skilled layperson who is a driving force in making these programs work writes grant requests and other appeals for financial support. As a result, among the staunch supporters of the Washington UCC's mission/ministries are two banks and hometown Kroger that has provided tens of thousands of pounds of meat for the daily meals and free store shelves.
At the heart of this ministry are five, six, or seven tireless long-time members who are the soul of its outreach, and a very part-time pastor. Their thoughts, prayers, and physical presence virtually every day of every week of every month all year long coordinate, inspire, and give birth to awesome care of their neighbors.
Learning What Mission and Ministry Really Are
Some years ago, Cincinnati-area clergy were invited to a dinner meeting. One purpose was to thank them and encourage their continued financial support. Another purpose was to probe for their ideas for how to continue the ministry and possibly generate new services. One pastor thoughtfully declared that Washington UCC is not only a mission to Camp Washington. He said "This is where the rest of us learn what mission and ministry really are!"
This church did not flee the city to head into the suburbs. Because it did not, families who live in isolated run-down Camp Washington with annual earnings often under $10,000; others who try to survive on disability and social security; some who are underemployed or unemployed; many without a high school degree; and still others who are homeless or struggle with addictions--are treated with dignity by faith-filled folks who deeply care about them.
To describe the awesome heart of Washington UCC is to call it the light and hope at the intersection of Sidney Avenue and Rachel Streets in an otherwise forgotten Camp Washington.
It is truly a place of grace – abundant grace!
Thanks be to God! Shalom!
(For more information or to offer help, contact pastor Melissa Stephens at WashingtonUCC@aol.com or Laurel Hume at LaurelH@zoomtown.com )
Questions For Reflection (either individually or with a group)
Read the blog. Read it a second time, maybe reading it aloud or asking someone else to read it aloud so you can hear it with different intonation and emphases. Then spend some time with the questions with anything that helps you reflect more deeply. Take these questions for a walk in the woods or in your neighborhood, for a swim or a run or for a hot soak in the tub. Invite the questions to join you for tea or coffee.
Rev. Gantt seems to be saying grace is more than an idea or intention. It is action. Can there be grace without action? Why or Why not?
Why do you think the author says it takes not just people and funds but it also takes courage to accomplish what Washington UCC has done?
How can you help your faith community to be a serving community?
Download a pdf including the Reflection Questions to share and discuss with friends, family, or members of your faith community small group.
Courtesy of the Parker Center for Abundant Aging, promoting the riches of Abundant Aging; advocating for an inclusive society that conquers ageism;
and delivering education and resources to transform how we think about aging.
Blog: Copyright 2023, Rev. John Gantt, All Rights Reserved. Photos courtesy of Washington UCC who maintains copies of signed releases