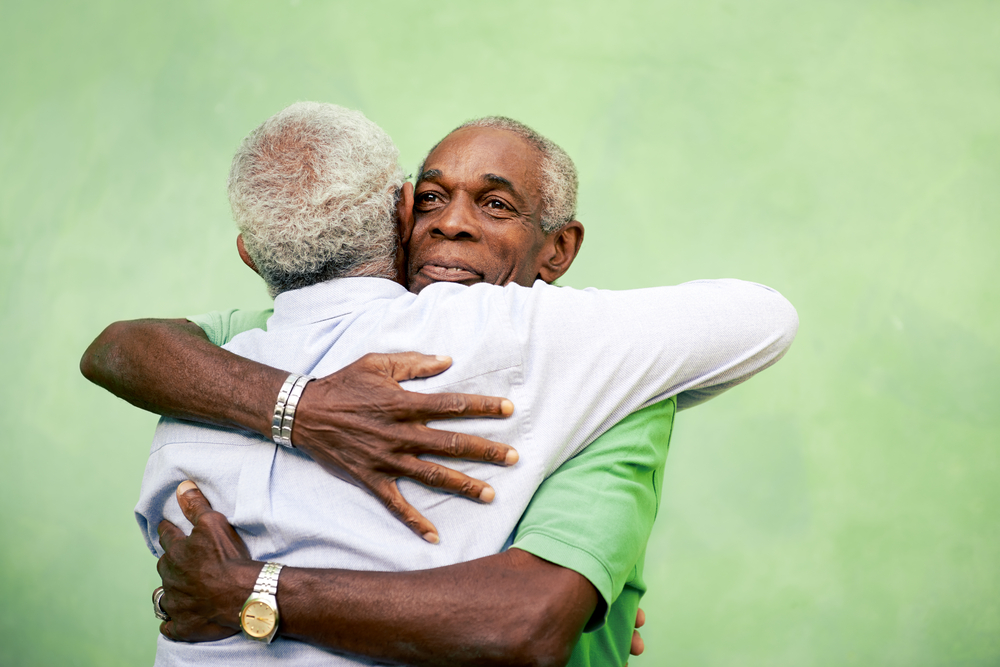 Author's note: This blog post is the second in our series inspired by Amanda Gorman's words in "The Hill We Climb."
April showers bring May flowers. This month also brings Easter baskets and warmer temperatures. And it carries other reminders, not of spring-time happiness, but violence and hatred and grief. The assassinations of Martin Luther King Jr. and Abraham Lincoln happened this month. April holds the anniversaries of the Oklahoma City bombing in 1995, which occurred on the second anniversary of the tragic events in Waco, Texas. The massacre at Columbine High School in 1999 was done on the birthday of Adolph Hitler. Add into this month the Virginia Tech shooting in 2007 and the Boston Marathon attack, just to name a few of those things in recent memory. There are several theories as to why April sees this spike in violence.
I invite you to pause and consider a few more of Gorman's words in "The Hill We Climb." In a recent interview with Oprah Winfrey (available on AppleTV), Gorman shared that although she had been working on the poem for weeks, it wasn't until she watched the events of the January 6 Insurrection unfold in the Capitol that the piece finally came together. These words speak to the arms we saw and the arms for which we all yearn:
We lay down our arms
So we can reach out our arms to one another
We seek harm to none and harmony for all
Hugs
I was raised by a Kindergarten teacher and minister in the '60s and '70s. This play on the word "arms" jogged some interesting memories. While some people remember classic poetry of more notable literary figures, my favorite poem that I memorized is called "Hug O' War" by Shel Silverstein.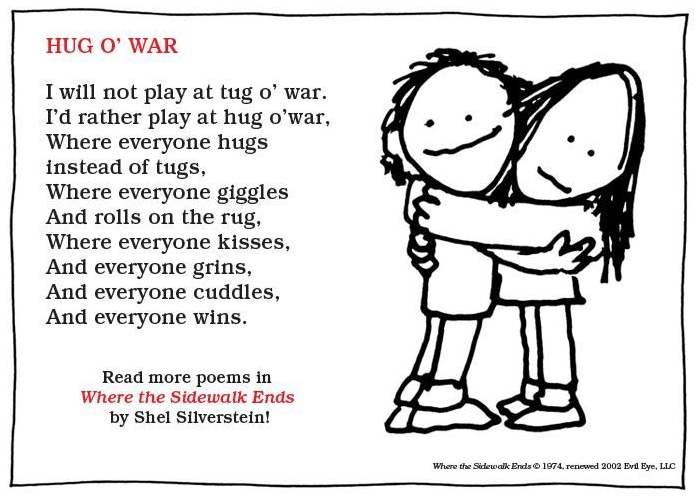 The song Arms are for Embracing by our friend Don Eaton should probably be on my music "life list," as it connects deeply to that younger era of my life. Should I find myself living with cognitive decline in years to come, recognizing the lyrics, "Arms are for embracing, hands for healing touch" may be just the thing to soothe my anxious soul. Eaton's song was a cry for disarmament coming out of Vietnam and the nuclear arms crisis. The chorus continues, "Legs and feet for walking and dancing and such; I will not give my body as a weapon of a war; for that's not what any body's for." So, of course, Gorman's mention of this play on the word "arms" connected with my pacifist-leaning imagination.
The Drama of Embrace
I was introduced recently to the work of Miroslav Volf and the Drama of Embrace. This work is a metaphor that shows "the dynamic relationship between the self and the other that embrace symbolizes and enacts."
This drama has four acts.
Open your arms to receive the other person.
Wait for permission from the other person for the embrace to begin. This act involves respecting boundaries. If consent is not granted and the action is engaged, it is seen as violence or an assault.
The arms close for the actual embrace, the metaphor of the relationship itself.
The arms open, gain letting go of the embrace.
"We lay down our arms so we can reach out our arms to one another" is waiting for permission to close them around the other. In the act of embrace, we can recognize the other as a child of God. We cannot embrace when our arms are full. We cannot sow justice when we are carrying instruments of hate. When we are in a healthy relationship with each other, we are not seeking each other harm. We are engaged in healing touch seeking "harmony for all."
Gorman's description that we "lay down our arms" is pivotal. In April, it appears that too many continue to bear their arms as they cross the boundaries that deny the sacred soul of others. But April violence cannot lead to silence.
Feeling Safe
A few weeks ago, a colleague shared a Facebook post from a physician-member of her congregation. As a man of Asian descent living in the Midwest, he fears for his family. He shared that patients have refused his care because of his ethnicity, and he fears that his co-workers would be attacked because of the color of his skin. Unbeknownst to even his family, he had purchased a knife to carry in his pocket. He shared how this little item gave him some measure of defense. He carries it "just in case" the unthinkable would happen.
Last month, following the deaths of the eight women in Georgia targeted because of their Asian ancestry, the doctor attended a Stop Asian Hate vigil with his family. He recounted how powerful it was to be in that crowd collectively denouncing the hatred projected toward their community. He was moved to see the diversity of people who had come to stand in solidarity with his Asian brothers and sisters. Together they provided a unified voice that discrimination must be rejected.
He also shared that after they arrived at the vigil, he reached into his pocket, now out of habit, only to realize that he had forgotten the knife. He had perhaps unwittingly put down his "arms." But in that gathering, he realized that the blade was not needed because he was in a place where he felt "safe and accepted," knowing that others were reaching out.
He concludes, "How wonderful it would be for everyone to feel secure like that every day. And now I have hope—hope that one day I will no longer feel the need to carry that knife. I hope that my sons and I won't be threatened simply because of the color of our skin. Hope that one day we can all love and accept each other for who we are."
Reach Toward the Other
Even with my pacifist tendencies, I know that it would be naïve to assume that if everyone put down their "arms," we would live in peace and love, happily forever. I cannot know the fear and pain others experience to fully appreciate the many reasons for taking up arms of weaponry. But I can appreciate the invitation for us to reach toward each other without malice or aggression. I can stand firm in our culture's need to stop the many cycles of violence that plague and surround us.
May we use the anniversaries which this month of April provides to talk about our fear and anger about the violence. May we see the beauty of creation blooming around us as the powerful life force. Just as the stems break through winter's cold soil, so too can God's love push through the debris that surrounds us. Just as our Creator can call colors to burst forth and surprise us in the morning, so too may we surprise others as we stand with a unified voice denouncing hatred that divides. May we all find ways to seek harmony that all may feel safe and secure as we reach out our arms toward each other.