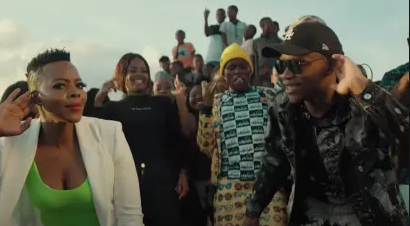 Through the remaining five weeks of this Lenten season, we will be reflecting on daily scripture readings. Each blog writer will reflect on their experiences alongside the sacred texts as we mark a full year of life amid the COVID-19 pandemic and as we pass the mark of 500,000 U.S. lives lost from this virus.
I am not always current with pop culture. Within the past month, I have become aware of a global phenomenon regarding the dance #JerusalemaChallenge. To illustrate my slow awareness of popular culture, the music video has been seen over 344 million times before I "found" it. Obviously, the challenge continues to reach around the world, worming its way to those of us who don't even do hashtags or TikTok.
As I learned about the song, Jerusalema, by Master KG and artist Nomcebo, I found out the words came to the two musicians when they were "chilling," listening to Master KG's latest beat. They describe it as immediately feeling that this was "spiritual."
Jerusalem, my home. Rescue me, Join me, Don't leave me here!
My place is not here; My, My kingdom is not here, Rescue me! Come with me!
Save me, save me, save me, Don't leave me here.
Although written just before the start of the pandemic, the song and the dance challenge have been what many have apparently needed. If ever there was a period of time during which the entire population of the planet yearned to be saved, these past 12 months were it. If ever there was a time when people did not want to stay "here" in the place of quarantine and fear, the pandemic has been such a time. And I do not doubt that many representing various religious traditions can identify with the metaphor of Jerusalem being a place to be in the presence of the divine. To be in God's home is to be in God's presence.
Songs of Yearning
The singing of songs where the writer or performer yearns to be in God's presence is not new. Consider Psalm 138. This song of praise referenced a time in the writer's life when they experienced distress in the past. But they also mention their current time of trouble. Everyone who has lived on the earth since the Psalmist first sung this tune can identify with times of trouble.
Despite the past trouble, or even because of it, the individual sings a song of praise. They affirm their understanding and experience of God's love and faithfulness. They testify to God's answering of their prayers of distress. And the Psalm looks to the future as they continue their relationship with God as God will fulfill purpose in their life. The past, the present, and the future are all realized in the eight verses of this text.
Relationship with God
This Psalm is also a song about what those who are God's community are to do. We are to approach this relationship with our whole heart, our whole being. We are to sing. We are to place our bodies in positions that remind us of our human condition before God, like bowing down. And we are to call upon God for relief from all that distresses us. We are to name the things about God that are central to our relationship: God's love, God's faithfulness, and God's word. And we are to note that even the name we use to reference God needs to be done with reverence—exalted above all things.
Even though this Psalm references a single individual, this would have been written for their community of faith. But the verses of Psalm 138 don't stop with one community; it references kings of the earth. This God is a God of the global community.
Making Connections
This brings me back to this contemporary song of yearning. Master KG realized that the song's beat went well with a dance associated with South African weddings. And Jerusalema was released, including this dance. The beat is mesmerizing and energetic. The message touches the core of humanity—I find it difficult to listen to it and not want to move.
Obviously, the internet and social media helped to create this global craze. Following the initial release, as I understand it, a group in Angola made a video of themselves dancing to the song while holding with plates of food. Soon the dance challenge was thrown down, and people around the globe responded.
Global Expressions
From a group of Swiss police to Caribbean beach dancers, essential medical staff in hospital corridors around the world, Irish nuns, entire schools in Africa, women in their traditional dress on a green lawn in Austria - children, youth, adults into their eighth decade have all accepted the challenge. They have been moved to connect with their whole being. They have shared moments of joy while at work and home, in community and church- even in the midst of our current distress.
Why? Perhaps because we all yearn to be delivered from the current state of this pandemic. Or perhaps because of the grief of the losses around us, we know that we do not want to stay in this "place." Perhaps it has to do with the fact that this challenge connects all of these individuals through the basic need to move to the music.
Dancing Prayers
But a global dance challenge also reminds us that we are not unto ourselves. Particularly with these lyrics, we could approach this as a prayer to God, who is our deliverer.
One of the beloved songs from summer camp is "The Lord of the Dance," written in 1963 by Sydney Carter. The verses tell the story of Jesus progressing through his life, death and resurrection. Everyone sings in Jesus' first-person "voice" to the Shaker tune, Simple Gifts. Carter says that he was imagining "Christ as a piper calling us." It is the chorus that is repeated between the five verses that catch my attention in this context:
Dance, then, wherever you may be,
I am the Lord of the Dance, said he,
And I'll lead you all, wherever you may be,
And I'll lead you all in the Dance, said he.
We don't often think of dancing as a spiritual practice, particularly in Lent. But in this season, if you are looking for ways to express your yearning for release, maybe moving to music would be welcome. And when we take the dance that has swept around the globe and places it in our cultural context and comfort zone, perhaps we can also feel the connection through the beat to those around the world who are dancing, wherever they may be.
As we dance our way through this season, may we listen for the ways God works through us, fulfilling the promise that we will not be abandoned. May we be led by the piper who calls us into community. We will not be left in this "place" forever. God's love endures. Forever.