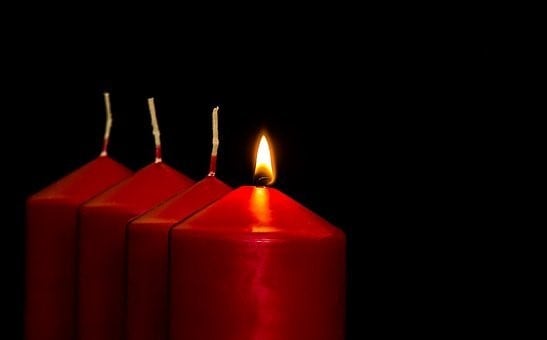 At this time each year, we are invited into a trilogy of seasons: the end of summer; the entrance of fall and the amazingly beautiful season of Advent. It is as if God prepares us for the birth of the Christ Child with endings and new beginnings.
Summer ends and our reluctance to bid summer goodbye is soothed by the entrance of fall and the changing colors which greet us every day. As the final leaves are departing, Advent directs us toward the Creator of all life and all time, and we rejoice in the gift we are about to receive.
"Make me to know your ways, O Lord.
Teach me your paths;
Lead me in your truth and teach me!
For You are the God of my salvation.
For You I wait all the day long."
(RSV, Oxford University Press, New York, 1962)
But sometimes, my world doesn't cooperate very well and an unexpected event entirely disrupts my life.
Recently, as part of the renovating project in the facility where I live, we had to exit our apartments for the worker's preparation for these changes. When I returned to my apartment, I discovered my large calendar, with its absolutely essential and life-giving information was missing. Standing next to my desk, 10" x 14" in size, it was impossible not to see it. But it was definitely gone.
When questioned, the workers said they hadn't seen my calendar. I invited a friend to search through my two room apartment and she couldn't find the calendar. For two days I searched my two rooms repeatedly with no success and no calendar but with the painful realization that my life, contained in that calendar, was gone! One moment it had been propped up by my desk. The next moment my organized world was totally missing.
Medical appointments; birthdays; celebrations; parties...organized for an entire year and now gone! Another friend visited and searched and came up empty handed. No one could find my calendar anywhere.
But it didn't make any sense. Calendars just don't disappear. Large objects cannot be hidden from view. And in a senior facility, when something is lost, hints of reduced abilities - fears of forgetfulness and other signs of aging immediately become a part of the scenario. Is this a first sign of more difficult times to come?
But amazingly, over time, I have found a certain contentment in my situation. My life is complicated and demanding. Jobs need to be accomplished; errands run; doctor's appointments fill all our calendars (if you have a calendar!). Life is on demand much of the time.
But the center and meaning of my life is contained in God and not on the days in my calendar.
And, surprisingly, I am finding that not having a calendar is living in a no demand situation. No calendar, no dates, no demands! No appointments! I can breathe again.
The things of this world - the calendars and the objects that define us - are embedded in our thoughts and our lives and are subject to the vagaries of life lived in a universe of other people.
But God lives in our hearts and spirits and is never lost - not even for a moment
"In God I find my life, my being, my world, my heart!"