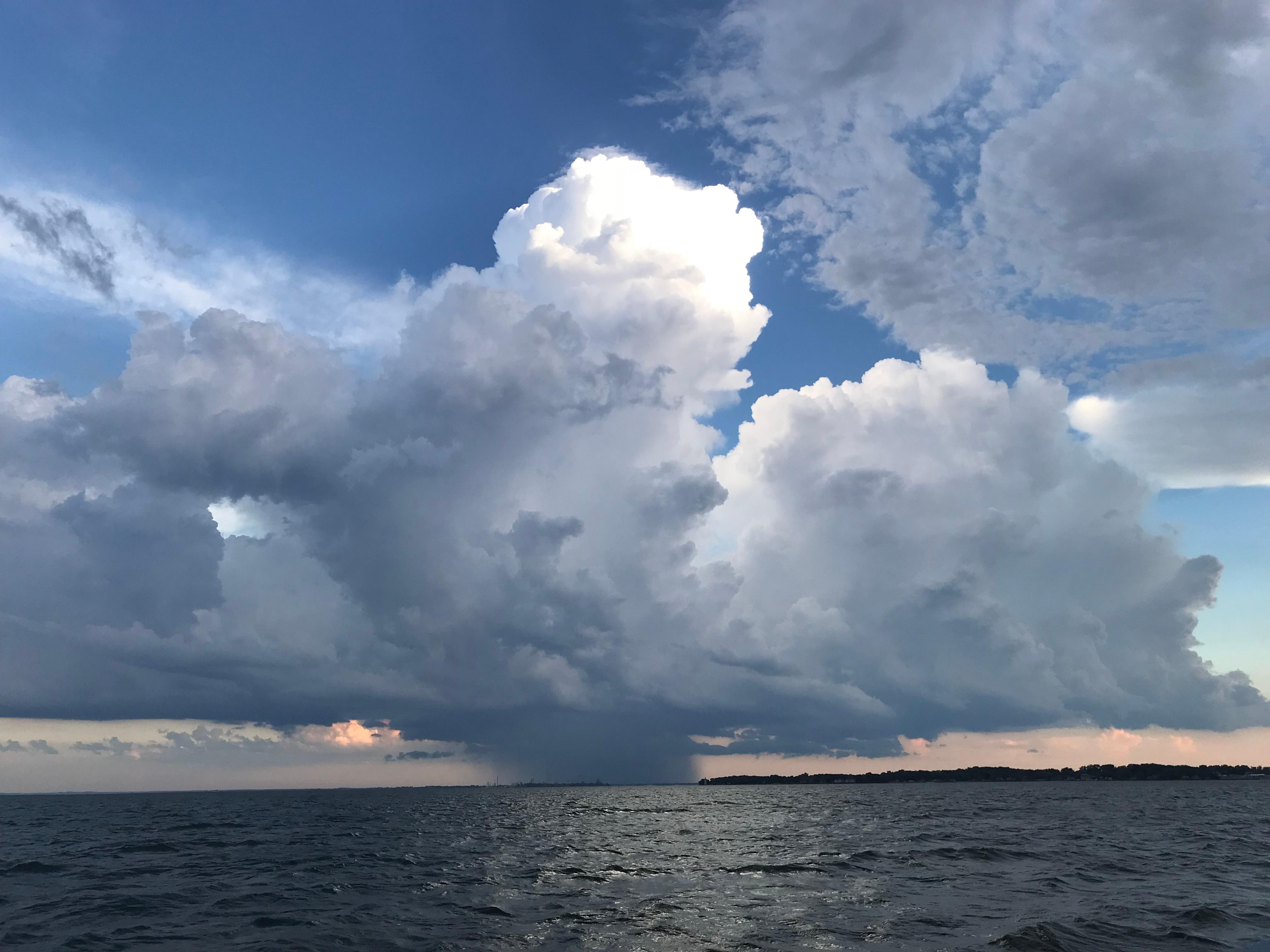 I was born, raised and have lived my entire life near Lake Erie. The fourth-smallest of the Great Lakes has a majestic shoreline that extends across the state and north into Canada. To love Lake Erie is to appreciate its rapidly changing dynamic. Winter cold can create a frozen surface that stops all traffic. With a gentle breeze of summer mornings, the lake appears almost like glass as sailboats coast in the sunshine. It is amazing to watch the big cargo ships travel in the distance at sunset.
Lake Erie demands a high level of respect because the weather can rapidly change from peaceful to wild and stormy, especially in the fall. Carrie Sowden, Archaeological Director at the National Museum of the Great Lakes – Great Lakes Museum Toledo, Ohio (nmgl.org), says, "There are approximately 2,000 accidents and shipwrecks in Lake Erie. Of these, probably 800 to 1,000 are left in the Lake." Standing at the shoreline as a storm approaches, the waves can smash 10 to 20 feet over the rocks and affirm their phenomenal power.
Life-Changing Winds
Watching the change of seasons and Lake Erie's catastrophic weather events offer a profound visual image of the devastating announcements that rapidly impacted our lives on March 11, 2020, when the World Health Organization declared COVID-19 a global pandemic. On March 13, 2020, the Center for Medicare and Medicaid Services restricted all Long Term Care Communities' visitation. The lives of our residents, staff and families were forever changed.
Anniversary Reflection
Continued traumatic announcements swirled like a devastating storm across this country and our global world, caught in a tumultuous whirlwind of change. Protocols that led to schools and non-essential businesses closing, social distancing, masks, sanitation, and handwashing were immediately developed. Life as we knew it came to a screeching halt. Altered family patterns and working from home have challenged us to grieve profound loss while learning to adapt in unexpected and unimaginable ways.
The Power of Promise
Our world has experienced tremendous upheaval episodes that have led to radical change, altering its course throughout history. Journeying through this season of Lent presents an opportunity to reflect upon the life and ministry of Jesus during ancient tumultuous times. Grounded in God's steadfast, gracious and merciful love, Jesus faithfully continued his ministry of healing, teaching, and preaching. In today's lesson, we remember the ancient wilderness experience. Moses, in conversation with God, acknowledged the Israelites' transgressions. He challenged God during that difficult time to "remember Abraham, Isaac, and Israel, your servants whom you promised, 'I'll make your descendants as many as the stars in the sky. And I've promised to give your descendants this whole land to possess for all time.'" (CEB)
Living within the Divine Promise
Embraced within divine and steadfast love, our nation and this world have preserved through this Covid catastrophe. Necessity has undoubtedly been the driving force of invention. People are resilient. Zoom, Skype, FaceTime, outside visits, drive-by parties, and celebratory parades quickly became essential activities to keep our families and communities connected. Individuals donated, volunteered and found unique ways to support others. Stories of patrons leaving substantial tips at restaurants have demonstrated the depth of care that we humans have within our souls.
The Journey to Easter
We remember life's difficult challenges, grief, and times of loss. And yet, images of Lake Erie affirm the ebb and flow of life continues. As we journey through Good Friday and into Easter, we remember the losses of the past. Hopefully, with the increased availability of COVID vaccines, our life path will lead us toward brighter days. May we courageously continue to follow the path of Christ-like love, always holding fast to God's eternal promises, steadfast and guiding presence.