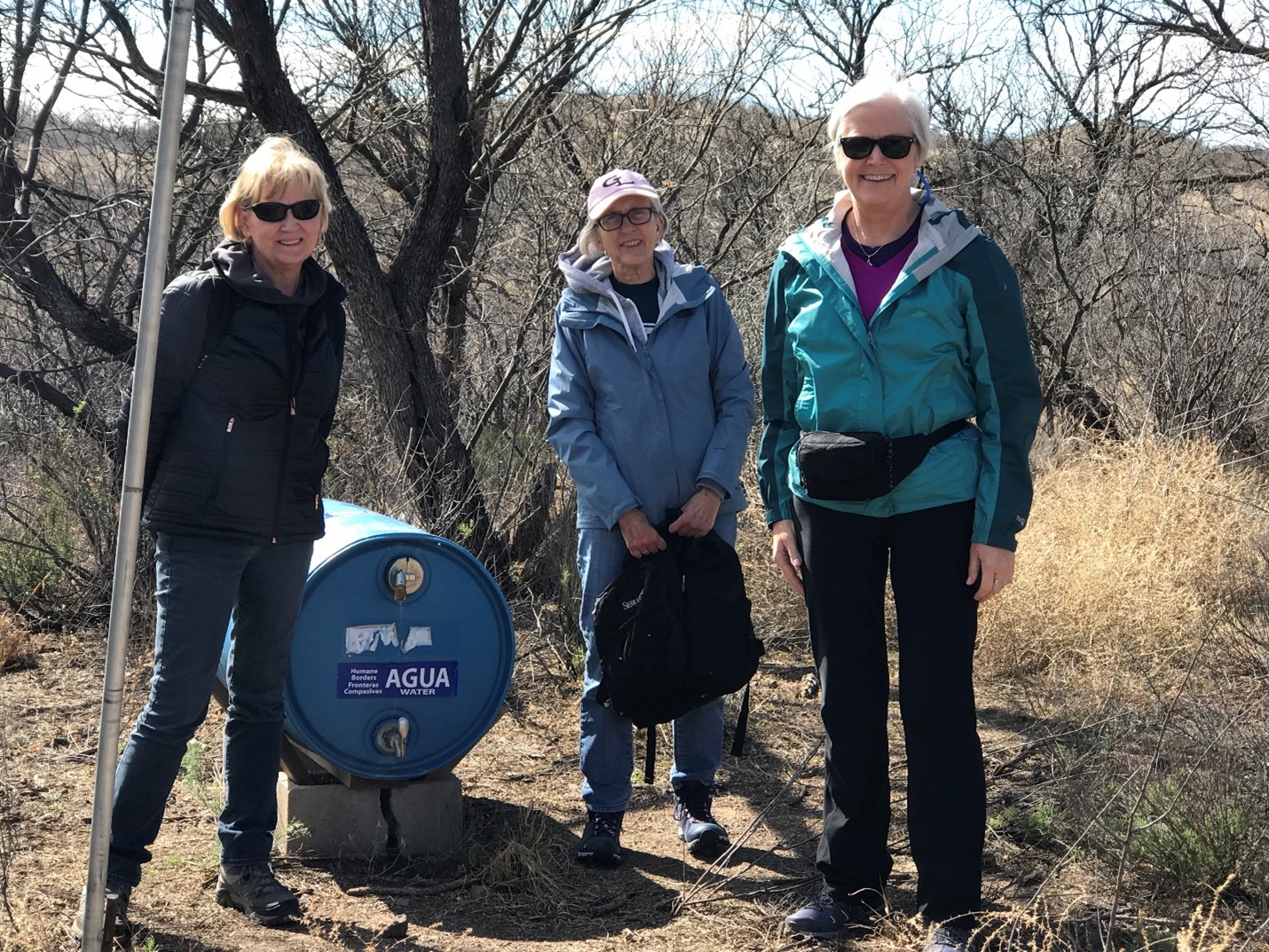 In 2008 I traveled to the border lands between Arizona and Mexico. This was a trip required for my graduation from seminary; an "intercultural immersion" experience. Truth be told, I chose this trip for its logistics. I was a widow with teenage children, and I needed to be able to fly home easily (from a domestic airport) in an emergency. So, rather than going to Oman or Israel, I flew to Tucson, Arizona.
Our purpose was to learn about and reflect upon the issues of immigration and migration and culture and politics and economics that crashed against each other in this area. I'd never been in the desert before and I was enchanted by the flora and fauna unfamiliar to me. The sunsets were breathtaking. I was completely taken by surprise at the frigid nights in the open country. And at the end of our time, I was completely changed. The Holy Spirit was my companion. Since that time, I've returned twice, each time with a group of folks also eager to learn about our southern border. These weeks in Arizona have sparked something in me. Reflection, yes. And a passion I didn't know was hidden within.
Immigration Roots
My own family history includes relatively recent immigrants from Germany; my grandparents arrived in the U. S. as children early in the 20th century. I heard them tell their stories and I heard them speak German to church friends. I bake special cookies from a recipe my great-grandmother carried with her all those years ago. We were invited to recall our family memories in order to understand our newest immigrants, those who try and try again to gain entrance to our country and cling tenuously to a network of relatives and friends. A century divided our experiences, but the desire was shared.
In Arizona we met folks who had survived nights in the desert, others who had crossed the border more than once, still others waiting for deportation in custody. We observed the proceedings in immigration court. We cooked and cleaned in a Catholic shelter for asylum-seekers. We talked with one woman who is here without documentation and heard about her fear of being taken from her home while her citizen children are in school and her husband is at work.
When we crossed into Mexico, having passed nearly unimpeded through the crossing, we were welcomed into homes of folks who work in American-owned factories. We ate delicious meals around tables set on dirt floors lit by a single lightbulb and talked with children coming from and going to school on staggered schedules. We met with pastors who support migrants deported back to Mexican border towns with only the clothing they are wearing.
Close to Home
Once back in Michigan, far from the southern border (but where much of the state is within the 100-mile limit of the border patrol's reach, that is—within 100 miles of an international border) I saw with new eyes as the streets in a small town emptied when the grapevine trembled with news of border patrol agents in the fruit processing plant nearby.
The realities of immigration to the United States were and are extraordinarily complicated. There are no easy answers. Requirements have changed over history. But I know that because of these experiences I stand a bit more strongly in support of efforts to sort things out. We can't all do the big things, but each of us can do the things that may make a small difference. I order my coffee directly from a co-op of Chiapas farmers based in Agua Prieta. I've walked alongside immigrants here in Grand Rapids, Michigan in support of allowing everyone to apply for a driver's license. I've contributed financially to a group of volunteers based at The Church of the Good Shepherd (a congregation of the United Church of Christ) in Sahuarita, Arizona; the Samaritans search the desert for folks walking who may be lost or hurt or dangerously frail. We can all become more educated and work to see the people who surround us in ways that challenge us to be more compassionate and more ready to stand up. One day, I will return to the desert; find my friends, the Samaritans, and continue to learn how to stand together. In the meantime, the memories of these times echo with the words of the scripture that we read and repeated in the desert:
'Come, you that are blessed by my Father, inherit the kingdom prepared for you from the foundation of the world; for I was hungry and you gave me food, I was thirsty and you gave me something to drink, I was a stranger and you welcomed me, I was naked and you gave me clothing, I was sick and you took care of me, I was in prison and you visited me.' Then the righteous will answer him, 'Lord, when was it that we saw you hungry and gave you food, or thirsty and gave you something to drink? And when was it that we saw you a stranger and welcomed you, or naked and gave you clothing? And when was it that we saw you sick or in prison and visited you?' And the king will answer them, 'Truly I tell you, just as you did it to one of the least of these who are members of my family, you did it to me.' (Matthew 25:34b-40)
May it be so.