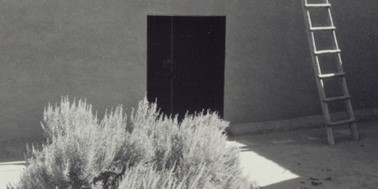 Within a week of starting a seminary internship in Minneapolis, I was packed into a van with a youth group on an adventure to Ghost Ranch, New Mexico. Going from the big city to rural New Mexico wasn't only a huge change in landscapes, but also a transformative journey of personal and spiritual discovery. I quickly learned that Ghost Ranch, a sprawling desert reserve and Presbyterian conference center, contained a beauty I had never before encountered. Low-lying hills that seemed to radiate a grey-blue-red tone, dry brown sand and scrubby green plants covered the valley floor. A massive blue sky with white clouds billowing above created a palette of colors that led me into a setting where nature and spirituality came together.
Artist Georgia O'Keeffe

Ghost Ranch is also adjacent to the home of the artist, Georgia O'Keeffe (1887-1986). Her revolutionary canvases often contained images of this region where she spent most of her summers. On this trip, I found a particularly striking O'Keeffe poster titled "Red Hill and White Shell" (1938). This became a lasting memento journeying with me through all the many adventures of my life.
Recently, I had the opportunity to see an exhibition of O'Keeffe's photography. Unfamiliar with her mastery of this medium, I was quickly drawn to these unique images, many captured in black and white, many made with first-generation cameras. These images were as compelling and even as emotionally moving as her more iconic paintings.
I learned that O'Keeffe turned to photography later in her life. From her 60's into her 80's, O'Keeffe's art moved increasingly through the lens of a camera. While her husband, Alfred Stieglitz, was a world-renowned photographer, few realized O'Keeffe's own artistic gifts in this medium. Her images still reflect a sharp sense of composition, of carefully locating elements often from commonplace items. Particularly captivating is a series of shots of a bare adobe wall with a ladder positioned at an oblique angle in the sun. The bumpy surface of the wall contrasts with the smooth weathered wood of the ladder. There is a bright light cut through the frame by the ladder's shadow.
Changing Your Perspective
In addition, I learned that O'Keeffe also used a technique in which she would change the position of the camera very slightly taking multiple images of the same scene, each with its own unique perspective. She might have taken dozens of shots of the wall and the ladder, each one unique and captivating. O'Keeffe wrote, "It is only by selection, by elimination, by emphasis that we get at the real meaning of things."
It seems to me that this may be one of the important lessons of aging. Time teaches us to change our view, alter our perspective and create new frames of reference to better understand ourselves and our world.
This isn't to say that changing our perspective negates learning what went before. It is a natural process of how the mind matures and makes deeper connections, integrating a myriad of experiences along the lengthening journey of our lives.
I don't expect that I looked at O'Keeffe's poster on my wall at age 26 the same way I look at it now, some forty years later. It recalls for me memories of the beginning of my journey into ministry, the hopes and expectations of youth. I wonder how my own frames shifted from an interest in youth ministry to a 30-year career in senior services! I am continually drawn into the eternity of the desert landscape, the shifting perspective of time and maturity. And somehow the shifting perspective makes sense after all.
O'Keeffe's photographs capture my heart and soul too. Learning to see deeply and differently is one of the tasks of our later years. We shift our perspective to see connections we have missed, meanings we can only comprehend with time. As O'Keefe says, it is only by selection and elimination and, by emphasis, that comes from shifting our perspective, even slightly. It's not what we see. It's how we position the lens to look through.
Gateways to Understanding Ourselves
There's a metaphor (if not a sermon, here) first learned in the desert with a high school youth group. We are constantly evolving. We are constantly connecting and reconnecting the experiences of our lives to find new meaning and purpose. We experience a deepening integration with a Spirit that communicates with us through music, art, dance, theater, spirituality, the Earth, the sky and love itself.
The shell within the hills and the ladder against the wall are gateways to understanding ourselves more deeply, to contemplate the meaning of our lives and the pathways we have yet to explore. It is in the way of selection, after all, that we eliminate or emphasize that we comprehend the artful meaning of our lives.