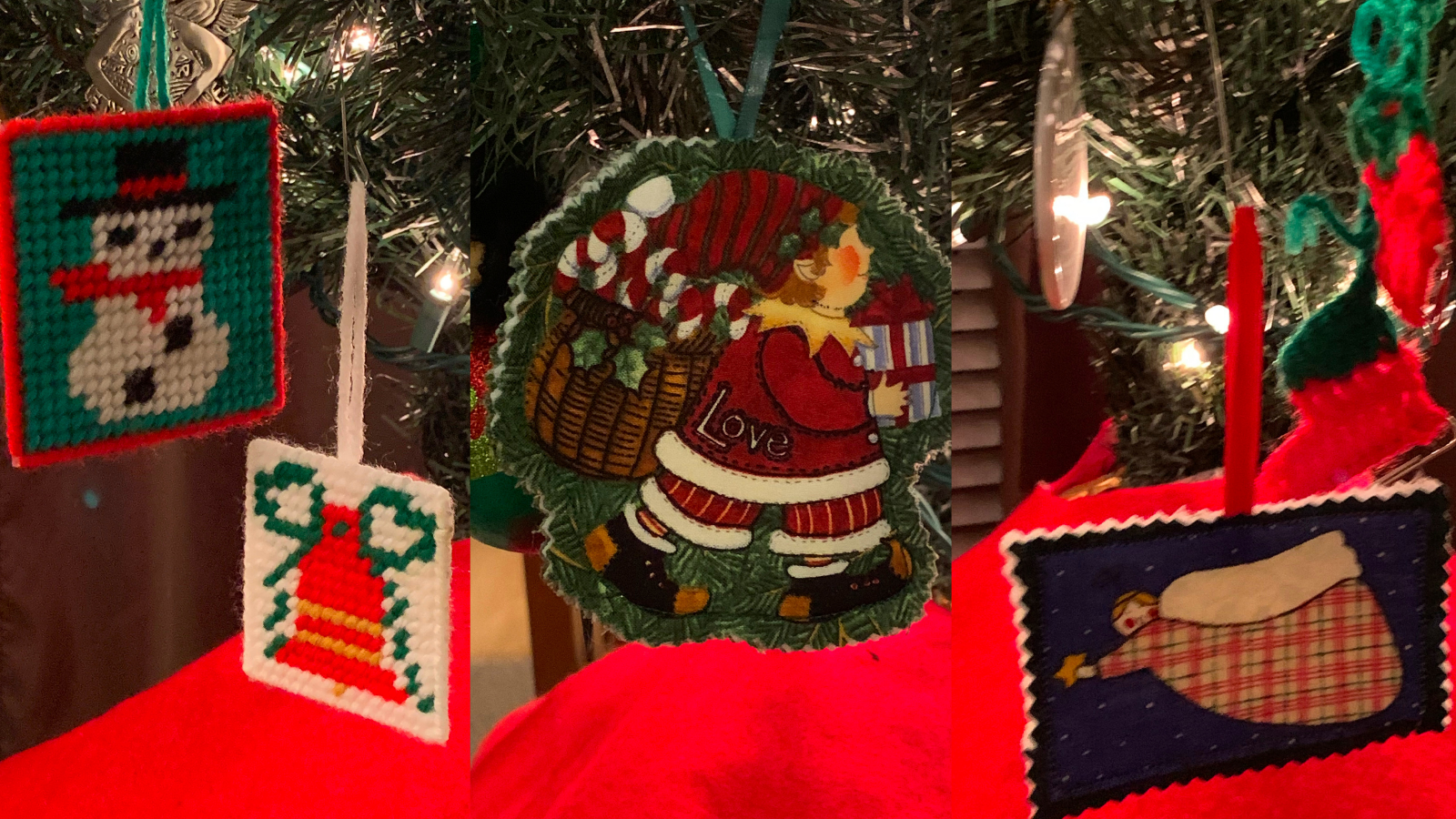 One of the highlights of Advent is decorating our family Christmas tree. We get the boxes out of the attic and carry them down with care. There are two huge boxes with three layers of partitions to "organize" the countless ornaments we have. Opening these boxes is like meeting old friends again.
We have accumulated quite a collection of ornaments over the years, many acquired at special points in our lives. For example, my wife's grandmother gave us a small ornament of a cage of love birds for our first Christmas. The children have their ornaments that they made in church and school. And we have more than a few we have collected on various trips abroad. And we even have the German pickle ornament to hide in the tree for the kids to find, a tradition none of our German friends can confirm.
We also have those other special ornaments like musical instruments each of us played. We have boy scout ornaments and soccer ornaments - all marking seasons of our children's lives.
My first Christmas out of seminary as a new pastor, I had no ornaments for my poor little "Charlie Brown" tree. I tried laying some of my Christmas cards onto the boughs. A friend of mine cut out ornament shapes from her used Lean Cuisine boxes. We were making do for sure as we began our new "adulting" journeys!
On my second Christmas, I received several dozen homemade ornaments from a member of the church. These were made of plastic canvas and yarn with various Christmas symbols like candles, Santas, and stars. I have come to love these simple ornaments. They are beautiful because each one spurs a memory of someone who became quite dear to me as a young pastor. This family was one of those that pastors sometimes find. They are the ones who welcome the pastor to sit for a cup of coffee or a glass of wine or to come to dinner even without an invitation. They offered listening ears, patient support and wise counsel. These ornaments are worth their weight in gold for me. And each year, I remember those special people long ago at St. Andrew's Church in Reading, PA, who supported my early journey in ministry.
My newest ornaments reflect my time here in Ohio at United Church Homes. I have a ceramic map of Ohio. I recently bought a couple of decorated light bulbs that once graced the marquee sign above the historic Palace Theater here in downtown Marion. I also have handmade ornaments made from scraps of cloth and quilting squares that a Marion church member made for those in the choir. She has since passed away, but her ornaments remind me of her love of music, needlecraft and the church.
Almost every ornament, at least the ones we choose now, tells a story. They mark a spot along our journey as a family. Maybe that is the story of Advent. We prepare to receive the promise of God by recalling the presence of God's grace in our lives down through the years.
Ornaments trigger memories, and memories are, after all, an important part of the holidays. Christmas is a time to reflect on good memories. It is also a time for grief, sad memories of past losses, and loved ones no longer with us. Maybe we need these memories, especially this year as the pandemic has ravaged so many families, forced us to change our traditions, forego large family gatherings, and even to cancel church services. But we are also hopeful that a vaccine will come in the new year to begin beating back this virus that has killed so many.
Advent is also a time for the church to remember its own journey. Recalling the stories of Jesus' nativity is also a memory that may help us now, too. Maybe we will hear the old familiar story in new ways during these unfamiliar times. The story of the birth of new life, new hope, and a new world may resonate in our hearts in more personal ways.
Jesus' birth is a memory that has also been imparted to us through our families and our church. But like our ornaments, Jesus' birth taps into the deepest longings of our hearts and this world that seeks peace and justice in His name. Our residents share many of their own rich stories of long lives well lived. They have endured wars, depressions, and pandemics before. Many of them remind us that faith doesn't insulate us from the hard knocks of life. But faith through memory provides resilience and opens the door to a deeper understanding of God's grace moving through our lives.
Like our Christmas ornaments that mark our path through life, the Christmas story travels with us in our hearts. May we come to a deeper understanding of God in our lives as we recall the story of love born into the world in Christ.