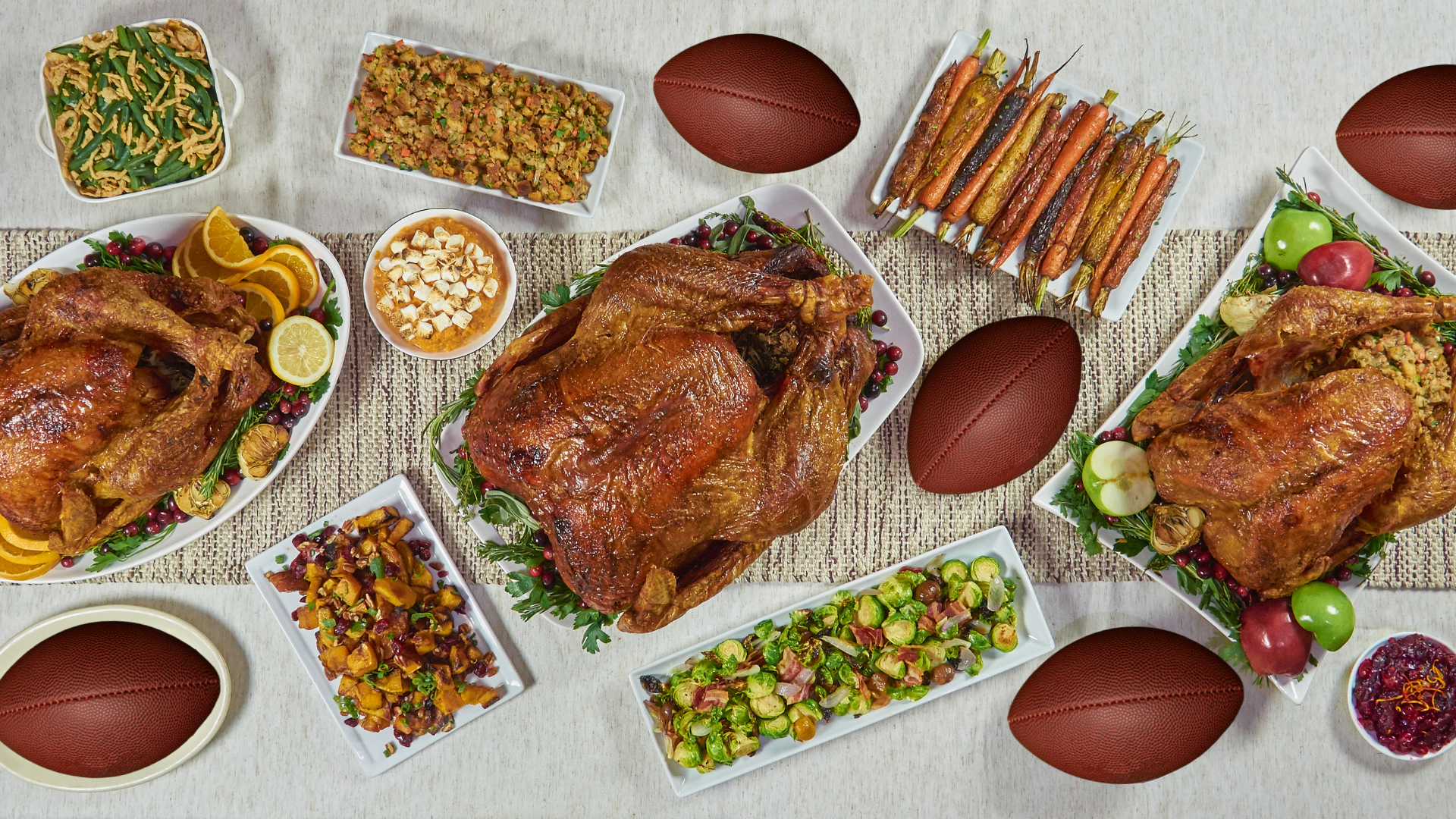 I never played football, but I did play the clarinet. Throughout high school, our Thanksgiving mornings included the "Big Game" with our cross-county rivals, the Whitehall Zephyrs. The night before was the traditional Emmaus Pennsylvania Green Hornet bonfire filled with cheers, singing and a big pep rally. Then early Thanksgiving morning we were off to the game in our band uniforms, tall white hats, green feather toppers, and white buck shoes.

Our family Thanksgiving would begin as a post-game activity in the afternoon. Those memories of friends, school spirit, cold windy mornings, and warm family afternoons are part of my Thanksgiving memories.
In addition to the pomp and romp of football, for my small family, Thanksgiving was a moment of time together. Our busy lives of work, school, church, and friends all went on pause. We had the afternoon and evening for our own traditional meal, which did not include turkey (Dad didn't like it for some reason I could never understand). Then we would just hang out together. I don't recall any other special rituals or traditions. Just the feeling of family time, togetherness, a pause before Christmas, and a sense of peace.

Throughout the past year, our United Church Homes leaders met regularly by Zoom to share information about COVID, solve problems, and lend support to each other. These gatherings became known as "Thankful Thursdays." This is a group of approximately 50 leaders whose work touches thousands of employees and residents every day. Each person had the opportunity to share a word of appreciation, a story, some positive news, or identify a team member who had gone above and beyond in their building or department.

Gratitude became the antidote to the anxieties and challenges of COVID for us. We discovered that as bad as things could get, we still found reasons to be thankful. We found comfort in sharing small victories and good work above and beyond the call of duty. We identified resources we could share and along the way, learned we were building something bigger than ourselves. Through these experiences, we built a sense of community among us, one that developed virtually because we could only connect by Zoom.

Maybe Thanksgiving is set in our American minds because of some of these similar traits. Our founding story includes overcoming great adversity, relying on native people to help us make our way, and discovering a new kind of cooperation where none had existed before.

The indigenous people showed generosity to the stranger in a way that European society probably didn't expect and in the long run of history didn't return in kind. I recall stories of the native Wyandotte people centered in Upper Sandusky, Ohio. They were known for their own peaceful, welcoming ways to outsiders. Missionaries recount tears of sadness from the white settlers watching the Wyandotte pack up and begin their own trail of tears toward Oklahoma back in the 1800's. Perhaps they acknowledged a unique bond of cross-cultural mutuality that was being broken by intolerance and American Manifest Destiny.

While we have fallen short of the aspirations of the pilgrims, we still tell ourselves this story. When we, for example, hold up the lens of racial inequities to the original Thanksgiving story, we know we have more work to do to celebrate differences and value a truly multicultural, multi-racial community.
Even still there remains a strong connection to this story for the right reasons. Our parents first lessons to us as kids is to remember to say please and thank you. Thanksgiving reminds us that we didn't come to our nationhood without some assistance from others, even those we would eventually force from their lands for our own gain. The American dream starts with gratitude, humility and community—those values that Thanksgiving commemorates.

So here we are once again ready to polish our white buck marching shoes and don our feathered band helmets. And once more the ritual football games will resound across the country from stadiums and TV screens in small towns and big cities. And we may argue whether we want turkey or ham or some plant-based non-GMO alternative, but what draws us to the table is gratitude. This enduring feeling on Thanksgiving calls us back to the original community of pilgrims and native people that reflected on their common aspirations that this New World offered to both.

I hope we all have time to connect to the heart of Thanksgiving once again and be grateful. Gratitude sets the table for peace, community, and an experience of God's abundant love for everyone. Best wishes and enjoy the day.